Our Mission Partners:



Follow us on Instagram @SOHawaii
Tweets by @SOHawaii
Special Olympics Hawaii E-Newsletter

April 2016
---
LETR Feature: Surf on Down to Support the
Hawai'i State Law Enforcement Surfing Classic
Volunteer law enforcement officers are preparing for a "swell" time. This year, plans are in the works to host the first ever Hawai'i State Law Enforcement Surfing Classic at Queen's Beach in Waikiki. The event will make waves May 21 and 22 as local law enforcement members – active, retired and reserve – as well as their families will compete in the surfing competition to raise funds and awareness for Special Olympics Hawai'i.
Spearheading the event is Lt. Guy DeMello, a 27-year veteran of the Honolulu Police Department. DeMello has the support of a committee that includes surf legend China Uemura.
"HPD already has a strong relationship with Special Olympics, so this really is a perfect fit. We think this will be a great event that we can enjoy with the camaraderie of our friends, family and colleagues," says Demello. "We wanted to do something fun and give first responders an event that they can rally behind while enjoying a couple days of surfing together and soaking in the beauty of our island home."
The competition hopes to have a ripple effect across the islands as well with commitments from law enforcement officers on the Big Island, Maui, and Kauai planning to compete in the event. The early entry fee is $50 and includes a commemorative shirt designed by 88Tees. Special Olympics Hawai'i is directly impacted by the entries received and plans to have athletes involved in the beach day festivities.
Entry forms can be downloaded online at chinauemura.com. For more information, contact SOHI Law Enforcement Torch Run Liaison, Rexie Adlawan at  This e-mail address is being protected from spambots. You need JavaScript enabled to view it
---
An Iconic Way to Support Special Olympics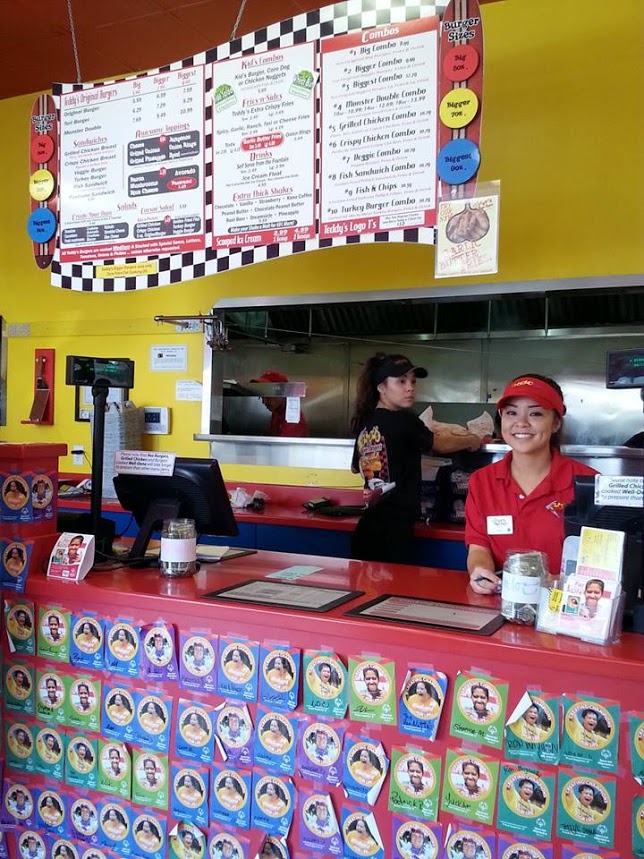 A great new way to support Special Olympics Hawai'i is springing up this April. When you visit any of these companies during the following dates, please consider making a donation to Special Olympics Hawai'i.
Big City Diner (Waipio Shopping Center, Pearlridge East, Kailua Town Center, Windward Mall, Ward Entertainment Center, Kaimuki): Will be collecting donations through April 30. Additionally, for every order of soybeans purchased, $1 will go to Special Olympics Hawai'i.
Teddy's Bigger Burger (Kapiolani, Wahiawa): Now through May 31
One hundred percent of your gift will go towards hosting the State Summer Games this May. The annual event will bring together more than 1,000 athletes and coaches from around the state to compete in an Olympic-style competition.
---
Welcome Blythe!
Please join us in welcoming the newest addition to our Special Olympics Hawai'i ohana, Blythe Yamamoto. Blythe joins us as our new Central/Honolulu/Windward area director and has already started work overseeing area programs and competitions.
She brings to her position years of experience in sports as a volleyball coach for a local club, high school and university. Blythe has also previously worked as a teacher at Kalihi Uka Elementary and as a service writer for JN Group / Audi.
---
A Day to End the Word
By Mollie Bruhl, Project UNIFY Coordinator
Words can heal. They can make people laugh, or cry tears of joy. But we should never forget that words also have the power to hurt.
On March 2, 2016, students across the state took a stand against the R-word, holding campaigns to "Spread the Word to End the Word." The campaigns ranged from poster projects to sign waving and lunch rallies. All focused on raising awareness of the hurtful effects of the R-word.
Farrington High School held a weeklong campaign including sign waving, inclusion games, and a pledge rally. They also had an ice bucket fundraiser to raise money for their Farrington High School Polar Plunge team where they dunked three administrators, including their principal!
At Kailua High School, the Unified Surfriders teamed up with the sophmore leadership class and centered their school's Spirit Week around the R-word. They held daily lunchtime activities, including a dance off!
At Roosevelt High School all student pledges are now proudly on display in the main hallway on campus! The students there held a sign waving and pledge event. Kalakaua Middle School students said "No say da R-word" and made posters of their pledges at their lunch rally.
In all, 30 schools in the state will hold or have held Spread the Word to End the Word campaigns including schools on three islands. Established in 2009, the Spread the Word to End the Word campaign was created by youth with and without intellectual disabilities to rid the word "retard(ed)" from everyday speech.
Our unified youth leaders across the state are urging their peers to take a stand against the R-word. I would like to ask you to do the same. Please consider eliminating the R-word from your vocabulary today. For more information visit www.r-word.org
---
Sponsor Feature: Honolulu Star-Advertiser
The Honolulu Star-Advertiser has been a Year-Round Supporter of Special Olympics Hawai'i since 2004. As a media sponsor for Special Olympics Hawai'i they don't always make make headlines, however provide a crucial role in providing our organization with more than $31,000 a year in advertising space in the Honolulu Star-Advertiser and Midweek which reach thousands of households statewide.

"For more than a decade the Honolulu Star-Advertiser has been partnering with Special Olympics Hawai'i to provide ad space to bring awareness to the causes that are important to them and raise awareness for their athletes," said senior marketing manager, Sara Uemura. "We are proud of this long history, and look forward to continuing to help them share their athletes' stories of courage and bravery."

The visibility the Honolulu Star-Advertiser provides supports Special Olympics Hawai'i's mission, creating awareness for our events and recognition for sponsors. If that's not newsworthy, we don't know what is.
---
Mahalo Matson!
Ku'uhaku Park and Keahi Birch, from helped present a company donation to Todd Apo, Special Olympics Hawaii board of directors past chair. Matson has sponsored and provided volunteers to staff the softball throw at the Special Olympics Hawaii Summer Games for 27 years.
---
Play Day!
Preschoolers from Honolulu elementary schools attended Play Day on April 15, 2016 at Manoa District Park.
---
Over 130 plungers participated in our annual Polar Plunge. This year we had a Star wars theme. We hope you can join us next year!