Our Mission Partners:



Follow us on Instagram @SOHawaii
Tweets by @SOHawaii
Special Olympics Hawai'i E-newsletter


February 2016
---
Medfest Screening
Keeps Special Olympics Hawai'i Athletes Healthy
Special Olympics Hawai'i athletes gathered at Kaiser Permanente's Mapunapuna Medical Office on February 16 for a round of complimentary physical exams to ensure they meet the requirements to participate in training and competition this year. MedFest is a Special Olympics initiative combining health and outreach, helping athletes who have difficulty getting to a doctor to obtain their valid and current medical forms to participate.
"We'd like to thank Kaiser Permanente for their continued support of our local Special Olympics athletes for the seventh year," said Jen Ernst, Special Olympics Hawai'i Healthy Athlete Manager. "MedFest offers our athletes the opportunity to receive convenient medical care and gain the clearance they need to train and compete."
Kaiser Permanente physician and staff volunteers measured vision, height and weight, and provided blood pressure, cardiovascular and musculoskeletal evaluations. Special Olympics Hawai'i athletes that attended the event received the free exam, along with a Kaiser Permanente water bottle and healthy snacks.
"Giving our Special Olympics athletes everything they need to complete safely and in top health is an important part of MedFest," said Mary Ann Barnes RN, President, Kaiser Foundation Health Plan and Hospitals, Hawaii Region. "We're proud to partner with Special Olympics and provide this important health check-up to the competitors taking part in this year's games."
---
Supporting Special Olympics Hawai'i
Has Never Been Cooler
From March 7 – 31, Menchies three locations at Ward Village, Kapolei and Mililani will accept donations to benefit Special Olympics Hawai'i! Since 2013 Menchies has participated in our icon campaign, helping to raise more than $5,000 for our
Stay tuned as we announce several more companies who will be accepting donations on behalf of our athletes in the coming months! When you visit any of these companies during their designated dates, please consider making a donation to Special Olympics Hawai'i. One hundred percent of your gift will go towards hosting the State Summer Games this May. The annual event will bring together more than 1,000 athletes and coaches from around the state to compete in an Olympic-style competition. athletes.
Law Enforcement Torch Run Feature:
Keeping the Flame of Hope Burning Through 2016
By: Rexie Adlawan, LETR Liaison for Special Olympics Hawaii
Every year, thousands of volunteer law enforcement officers from federal, state, and county agencies commit to the role of guarding the "Flame of Hope" for thousands of Special Olympics athletes around the world. The Law Enforcement Torch Run for Special Olympics (LETR) typically celebrates the beginning of games and unifies agencies to rally around raising funds and awareness for Special Olympics.
Locally, our "Guardians of t

he Flame" not only represent our athletes, but they also run on behalf of a fallen Honolulu police officer – making The First Hawaiian Bank Troy Barboza Law Enforcement Torch Run the only torch run in the world to be named after a fallen officer.
On February 17, 2016, representatives from the Hawai'i National Guard, Joint Base Pearl Harbor-Hickam, FBI, and other agencies gathered at the Honolulu Police Department's Main Station to kick-off this year's run. With the finish line in sight on June 3, the race is on for agency representatives to recruit fellow Guardians of the Flame. In addition to the Flame of Hope, another object is to unify all agencies and participants under the Torch Run – the commemorative shirt made specifically for the local leg of this international movement.
Each Torch Run around the world creates a commemorative shirt annually that is designed specifically for their area – making each shirt unique and collectable. This year's commemorative shirt highlights the torch through a Polynesian tribal design, created by Town & Country Surf's graphic designer Kulani Watson. Though you do not need to run to have a shirt, the Torch Run entry fee of $30 is the only way you can obtain this special design.
Supporters of the Law Enforcement Torch Run for Special Olympics often wear their commemorative shirts prior to the actual run, showing their commitment to our mission in the community. In that sense, the Torch Run shirts serves as the same symbol as the Flame of Hope itself – unifying people by raising awareness for Special Olympics athletes.
If you would like to join or support this year's Guardians of the Flame, please contact Rexie Adlawan, the LETR Liaison for Special Olympics Hawai'i, at This e-mail address is being protected from spambots. You need JavaScript enabled to view it
---
Win a Bowflex For Yourself & One For Us!
There's still time to #ShowUsYourGym for a chance to win a Bowflex Max Trainer, the ultimate piece of in-home training equipment! Special Olympics Hawaii is partnering with Goodshop to bring you this unique opportunity to share your most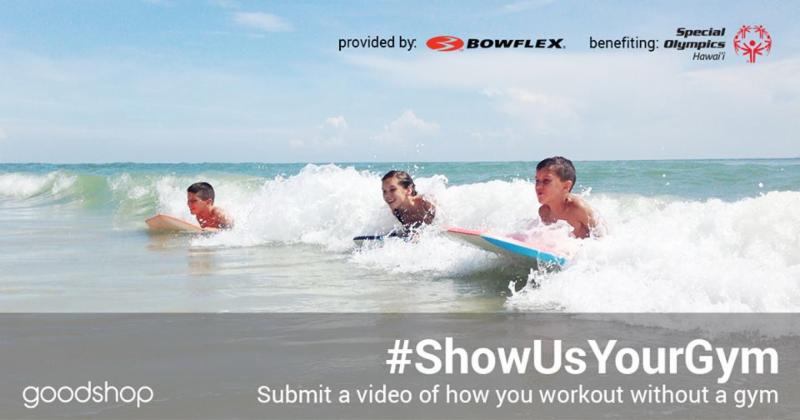 fun, creative, and inspiring home workout ideas with the world. Submit a video of 90 seconds or less that shows how you work out without a gym—whether you're shadowboxing in your basement, hula-hooping in your backyard, or something else entirely—to Goodshop's Facebook page by Sunday, March 6. We'll take a Facebook poll to determine the winning entry, which will be announced on Tuesday, March 15. Even if you're not the winner, your video can make a big impact, because Special Olympics Hawaii will receive an additional Bowflex Max Trainer and a donation of $1,000 when we reach 500 entries. So go ahead and show us how you stay fit without stepping foot in a gym. Your workout could end up helping others as well.
Enter now here: http://woobox.com/srdyuu
---
Project Unify Feature: A Senior's Reflection
By: Samantha Gilbert
I have been involved with Project UNIFY since my sophomore year in high school. Through the program at Kapaa High, I have participated in many seasons of Unified track & field as well as Unified bowling.
The best part of Project UNIFY is everyone's attitude towards each other. The energy and atmosphere we create is hands down the greatest. It's amazing to see everyone coming together and working as a team. The amount of unity this program offers is astonishing.
I love how much influence Project UNIFY has had on my life. I've made so many friends and learned so many things that I can take with me wherever I go. I'm really proud of myself and many others who actually made things happen for our school. It's a great feeling to know that we've made an actual difference. I'm so glad to have been involved with Project UNIFY during high school as I feel my own attitude towards others and towards life has changed. It's helped me shape my personality and given me the support and confidence to feel like I have a voice, and that I can make a difference.
Project UNIFY's Unified Sports program in particular was one of the things that made me realize that no matter what I do in life I want to work with people and also encourage sustaining healthy lifestyles. I'm going to be furthering my education in college studying nutrition and kinesiology (exercise science) in the hopes of making a difference in others lives, as well as my own.
I can only imagine how all my peers and friends feel considering how much I've been affected by Project UNIFY. I hope that they feel the same love and support that I felt. I hope that those who aren't associated with Project UNIFY will give it a chance. I will never forget my time spent with Project UNIFY at Kapaa High. I am graduating this year, but know that the program will continue to grow. I hope to be involved in something similar in college, or even bring Project UNIFY to my college!
---
Mahalo to This Year's Guardians of the Flame

Volunteer Law Enforcement Officers from federal, state, and county agencies gathered at the Honolulu Police Department Main Station to kick off this year's First Hawaiian Bank Troy Barboza Law Enforcement Torch Run. The Torch Run commemorates a fallen officer, Troy Barboza, and participants will carry the flame of hope through Waikiki on June 3rd for the Opening Ceremonies of Summer Games.
---
The Extra Mile and Run the Hapalua
for Special Olympics Hawai'i
Run this town and sign up for The Hapalua – Hawai'i's Half Marathon! Scheduled to take place this year on Sunday, April 10, the 13.1 mile run welcomes participants of all ages and ability levels (there is no time limit) to compete for a good cause.
Sign up for this year's event and designate Special Olympics Hawai'i as your beneficiary and join our SOHI Superheroes. Not only will you support the athletes of Special Olympics Hawai'i but you can take advantage of great incentive prizes, tips for fundraising and more!
For more information on this year's Hapalua or to sign up online visit http://thehapalua.com/.
---
Polar Plunge: The Freeze Awakens
Don't forget to register for the Polar Plunge on April 2, 2016 at the Waterfront Plaza!
---
Don't Forget to Follow Us on Twitter: @SOHawaii
Here are some of our latest tweets!
Congratulations to one of our biggest supporters Ben Moszkowicz on his promotion to lieutenant for 

@honolulupolice
Mahalo to this year's Guardians of the Flame!
W

e had a great time "chilling" out with

@pearlridge

's shoppers & talking story about this year's

#polarplungehi