Our Mission Partners:



Follow us on Instagram @SOHawaii
Tweets by @SOHawaii
Special Olympics Hawaii E-Newsletter

January 2017
Waialua Unified Sports® Team Goes Camping!
By Mollie Bruhl, 
Unified Schools Coordinator
Th
is
month Waialua Elementary School's Unified Sports® team spent three days at YMCA Camp Erdman. From overcoming a fear of heights on the 50-foot giant swing to hitting the bull's-eye in archery, the team built a strong bond that we will see reflected on the softball field in April.
This was the school's second time bringing their Unified Sports® team to camp. Waialua Elementary is able to host the camp thanks to generous donations from the community.
Head Coach and HOD Kimi Kawachi shared that "camp gives all the students a chance to grow together, but is especially great for the special education students who are often staying away from their parents for the first time." Sometimes it is hard for parents of a young child with special needs to let their son or daughter sleep over somewhere, but it is much easier for them knowing that their child is with their Unified Sports® team, surrounded by peers who are friends and coaches, who know them well.
It was a terrific experience to be invited to experience camp with these students and to promote the Polar Plunge team the Waialua Bulldogs are forming. During the visit we also had the opportunity to discuss ideas for their upcoming Unity Day, which the team is planning and promoting at their school in March. Unity Day will focus on kindness and the team will encourage their schoolmates to set personal "kindness goals."
The power of Unified Sports® to create friendship and acceptance was clear to everyone who came in contact with the team at camp. As I sat with the team and coaches for lunch, I watched the students together -- laughing, eating, looking out for one another, and simply being teammates!
---
Local Keiki Take to the Field For Annual Sports Day
hundreds of O'ahu keiki got out of the classroom and got active for a morning focused on inclusion and physical fitness. Special education students from eight schools around Oʻahu took part in Special Olympics Hawai'i's 11th Annual Sports Day.
Sports Day celebrates the importance of leveling the playing field for all athletes while creating an arena of inclusion, acceptance and friendship. Children participated in activities including soccer, bocce, softball, an obstacle course, golf, track and field and general fitness.
More than 250 Roosevelt High School inclusionary students (both general and special education students) prepared for weeks to host this annual event to promote physical activity and community involvement. The event is a joint collaboration between Special Olympics Hawai'i and Roosevelt High School's Unified Champion Schools Club, an inclusionary club with both general and special education student members.
---
Chill Out at Special Olympics Hawai'i, Polar Plunge, April 1
It's no April Fool's joke. Special Olympics Hawai'i's popular Polar Plunge is returning for its eighth year on Saturday, April 1, 2017.  The event will take place at
Waterfront Plaza on the lawn fronting Ala Moana Boulevard
, beginning at 9 a.m. with a plunge every hour till noon. Inspired by the popular Disney film "Moana," this year participants can channel their inner demi-god or goddess as they venture 36 feet down and 95 feet across an inflatable slide, before plunging into a sea of ice cold water.
Plunging participants are asked to reach a minimum
$100 goal for each plunge. Those who raise more than $
100 can take an additional plunge and those that raise $500 o
r more can plunge six times.
"This year we wanted to know how far our supporters would go to raise funds and awareness for our athletes with intellectual disabilities," said Tracey Bender, Special Olympics Hawai'i director of development. "With a lineup of free games, activities, and keiki crafts there are even more reasons to come out and spend the day with our Special Olympics Hawai'i 'ohana."
Students of all ages, elementary through college, can also join in the fun and take the plunge for a reduced minimum fundraising goal of $50. The Too Cool for Schools Challenge begins at 9 a.m. and allows students to raise funds with their classmates and represent their school.
Super cool participants can also register as a "Super Plunger" and take the plunge 12 times in six hours. Super Plungers pledge to raise a minimum of $1,000 and will receive a special prize package, VIP treatment and meals throughout the day. The Super Plunge begins at 7 a.m. and will conclude at 1 p.m.
Polar Plunges are regularly held across the Northeastern and Midwestern states, where participants jump into frozen lakes or ponds to help raise funds for nonprofits. Since 2008 Special Olympics Hawai'i's Polar Plunge has helped raise $ 360,207 for local athletes.
---
SPONSOR FEATURE: American Medical Response
American Medical Response (AMR) has been providing quality emergency medical services and non-emergency ambulance transportation for the state of Hawai'i for more than 30 years. When medical transportation needs arise, AMR responds with Hawai'i licensed paramedics and EMTs.
Since 2006, AMR has supported Special Olympics Hawai'i by providing on-site emergency medical service support during our fundraisers and competitions. This partnership provides peace of mind when a medical emergency arises since we know that their qualified staff know what to do in an emergency on and off the playing field.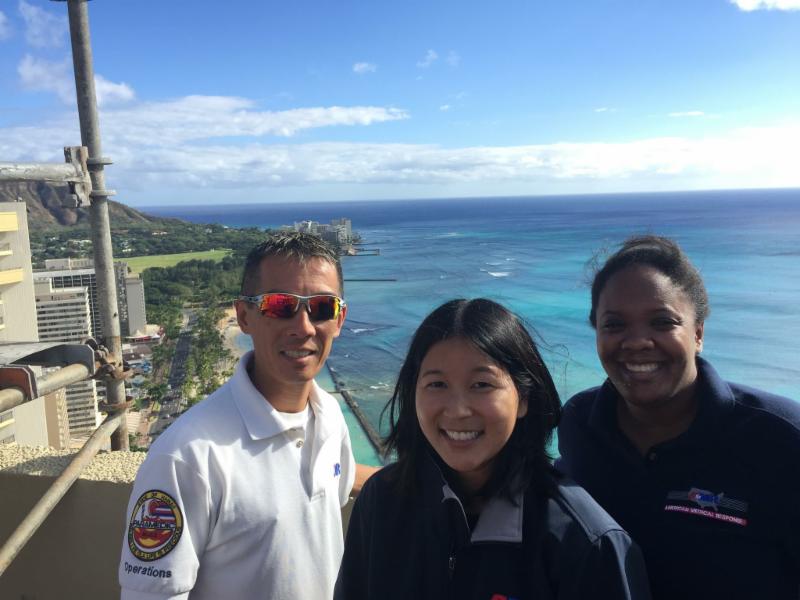 Because they have supported Special Olympics for so long, they understand our athletes and provide the best medical care possible. Special Olympics policies require medical personnel on site for our athletes, but, should the need arise; they are also willing to render care to our volunteers, spectators or anyone needing assistance.
Danny Kao, veteran paramedic with AMR, stated, "We are inspired by the challenges the Special Olympics athletes overcome daily to be the best they can be -- never giving up and their will to persevere. No mountain is too high to overcome. Their determination is truly inspirational. When a new paramedic or EMT volunteers for the first time, they are hooked and want to volunteer again. Special Olympics Hawai'i is part of our AMR Hawai'i 'ohana."
---